2022 ISPE Annual Meeting & Expo
The 2022 ISPE Annual Meeting & Expo will usher in a revitalized focus on excellence, modernization, and harmonization in pharmaceutical science and manufacturing across the globe, offering pharma professionals the opportunity to engage in industry-critical conversations. A comprehensive education program provides attendees with technical sessions on the latest developments in supply chain, operations, facilities, equipment, information systems, product development, production systems, quality systems, regulatory guidance and cutting-edge industry innovations. This signature event draws pharmaceutical and biopharmaceutical professionals at all levels of the industry from emerging leaders to the most senior executives in drug manufacturing, supply chain, devices and equipment and services, and global regulatory agencies. The conference Partner Showcase presents a large offering of the latest technologies and services for the pharmaceutical industry.
Conference Content Areas
Digital Transformation

Digitalization and the management of big data plus its analytics enables the control, prediction, and optimization of related biopharmaceutical business management trends and processes. The Digital Transformation process comprises the organization requirements, cultural change, workforce training and infrastructure required for successful implementation. This includes the 4 principles of Pharma 4.0 - Resources, Organization, Culture and Information Systems.

Manufacturing Trends

Applying harmonized approaches to innovative design solutions and project delivery strategies to ensure that quality therapeutic products are brought to market in an efficient manner to improve patient health. This includes manufacturing process improvement, the business strategies, and technology associated with the future state of manufacturing.

Regulatory & Quality

Regulatory and quality challenges, learnings, and opportunities which might include the current speed to market expectations, pandemic management, drug shortages, and the regulatory focus on data integrity.

Supply Chain Optimization

The impact and potential utilization of new technologies, processes, and disruptions on operations and logistics of the production of all types of therapies.

Therapy Innovations

Emerging and evolving technologies and practices that are helping drive a revolution in medicinal therapies, analytical techniques, manufacturing paradigms, medical devices including novel methods to deliver the next generation of drugs to patients.
---
What to Expect
---
Conference Attendees
Access the sections below via these links or on the left-hand side of the conference platform. 
Attendee Roster: View the full list of conference attendees - platform 
Agenda: Access the full agenda on the conference platform or the mobile app. 
Presentation: Presentations received from speakers before the conference who have agreed to make them available are currently posted on the conference platform. 
---
Tell Us About Your Experience!
We are conducting a brief survey about 2022 ISPE Annual Meeting & Expo, and, in less than five minutes, you can help us make next year's event even better. Please select the button below to complete our survey on the event platform.
---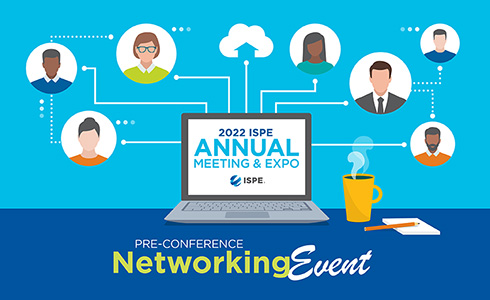 Meet the Team
Join this exciting pre-conference networking event and meet the conference planning committee members, leaders, and exhibitors, and learn the ins and outs of the 2022 ISPE Annual Meeting & Expo.
---
Thank You to Our Corporate Partners
---
Thank You to Our Event Sponsors and Supporters
---
Thank You to Our Media Partners