2021 ISPE Annual Meeting & Expo Poster Presentations
Please take some time to review these great topics.
---
Justifying Investment in Manufacturing Execution Systems
Presenter: Dirk Sweigart, MES Solutions Manager, Applied Control Engineering Inc
Guidance for life sciences companies considering investment in MES applications, including how to measure MES-related cash flow and reasonably evaluate an investment in MES versus other alternatives. As a result of this presentation, participants will: learn how to express a potential project in realistic financial terms for presentation to executives; what types and sources (and losses) of value can be found in MES projects and expressed in ROI; consider how to manage project risks by considering upside and downside cases.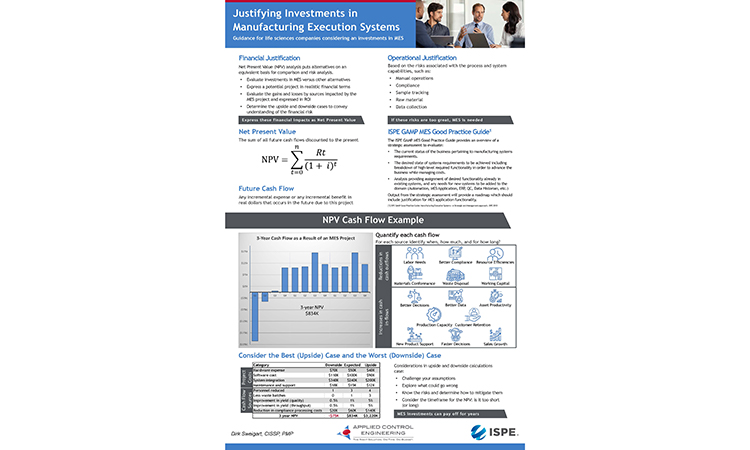 ---
Cable and Pipe Penetration Seals for Cleanrooms and Laboratories
Presenter: Sarah Mueller, Advanced Facilities Segment Manager, Roxtec, Inc.
This session addresses the importance of sealing cable and pipe penetrations for effective management of fire, water, gas, EMI and sound in laboratories, cleanrooms and other advanced facilities. As a result of this presentation, participants will learn about penetration sealing methods through walls/floors/equipment, acoustics and laboratory architecture, and sealing in classified and explosive locations. References will be made to UL, NEMA, EX, STC, FM and how the approvals relate to sealing barriers for fire, water, gas, and EMI.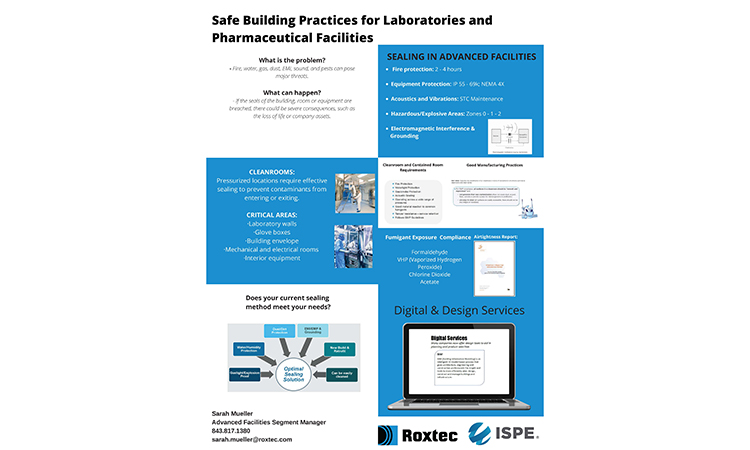 ---
Digital Asset Management to Re-imagine Project Delivery
Presenter: Jeremy Freeman, Pharmaceutical Sector Business Development Director, PM Group
Reimaging Capital Project Delivery - using Digital Asset Lifecycle Information Management - supporting Modularization and Digital Custody Transfer to Opex. This topic addresses the opportunity to influence the project schedule by supporting modularization and off-site fabrication using digital execution techniques. Facilitate efficient on-site assembly and commissioning using virtual construction techniques and promote early start up by digital handover to operating systems. Content shall address: the digital asset information lifecycle; information governance to support modularized project execution; project life cycle information requirements; supply chain on boarding; document data collection and model federation; Virtual Digital Construction (VDC) Principals and Opportunities; digital handover to operations; the role of the program integrator.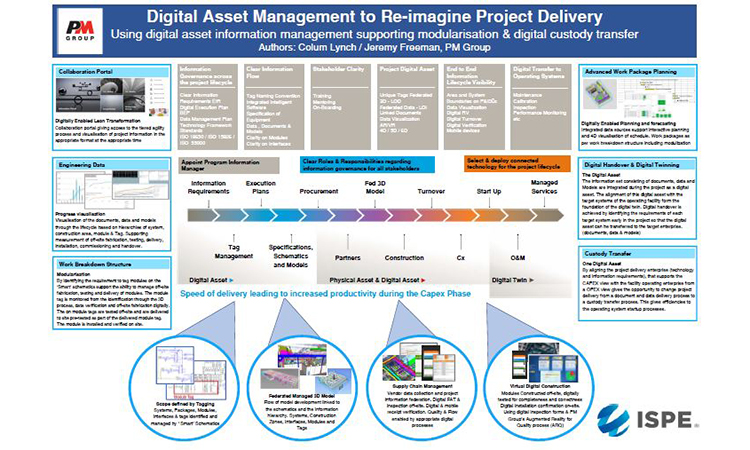 ---
Validation in the Pharma 4.0 World
Presenters: Michelle Vuolo, Quality Practice Lead, Tulip Interfaces and William (Chip) Bennett, PMP, Associate Director, Global C&Q, CAI
There are so many promises of the 4.0 world. Why has the adoption in the pharmaceutical industry been so slow relative to other industries? Is it regulations? Is it processes? Is it mindset? This session is intended to dive into some aspects related to quality and, in particular, validation. We will explore efficient, more focused ways to approach validation in a world where digital is the focus and data is fundamental. How can we demonstrate fitness for intended use in this data driven world? We will present a high level approach with some examples of how they can/have been successfully applied in real world scenarios: Learning Objectives. Shift the mindset from static document formats to digital data as the focal point for demonstrating control. Apply existing topics such as Quality by Design, Risk Management and Process Validation to the 4.0 world. Understand some of the needed paradigm shifts as discussed in "Validation 4.0 - Shifting Paradigms, Pharmaceutical Engineering, ISPE, November-December 2020, Volume 40, Number 6."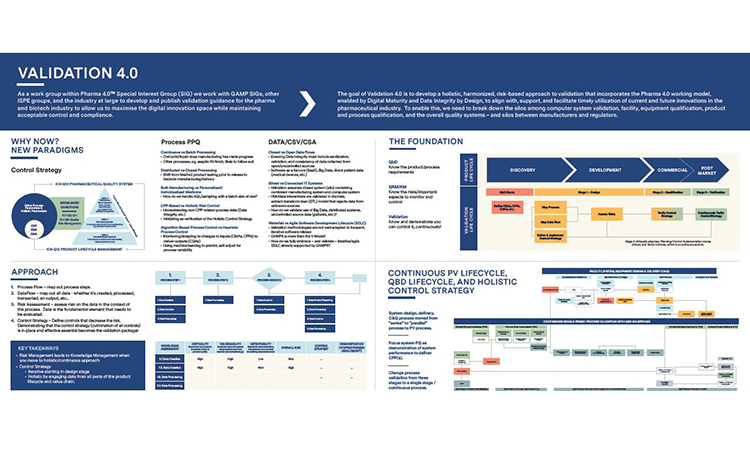 ---
T&ID, the Single Use Facility P&ID

Presenter: Carl Carlson, SME - Biopharma Process, Exyte
The benefits of applying a proactive method of documenting the Single Use facility Equipment, Connections and Connectors as a next step in Single Use Technology process documentation. Much like P&IDs document a stainless steel facility process train for the correct design as well as the production capacities and designed for purpose. The use of a T&ID will facilitate definition of the process as well as serve as a training tool. Single Use facilities have the distinguishing fact that the process train is assembled every time a production lot is produced. The T&ID can document the process and be used for Technology transfer, GMP documentation, Training, SAP tracking, and a tool for Risk Assessment.